(CMS created after taking the Laravel textbook)
Here is a message from a student who developed a web app for a real business after taking the Laravel textbook.
The web app is a CMS for his parents business. They run plastering work business. With this app, they can manage and add easily their plastering job achievements.
Here is his message we received.
Hi,
Junko san, Nice to meet you.
I sent you this message to thank you for your help in completing the application myself using the Laravel textbook as a reference.
Even my parents, who are not very good at using PCs, were able to create a website with this CMS that allows them to easily add their own achievements, and they were delighted with the results.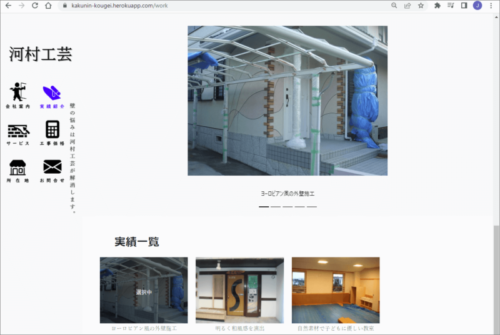 I could not understand Laravel clearly even after reading reference books and blogs of various people, but the Laravel textbook was really easy for me to understand.
When I was about to have a hard time with Laravel, I came across the Laravel textbook and felt that I would be able to have a long relationship with Laravel in the future. Thank you very much for sharing your valuable know-how.
I had no experience with programming as I had been working in a different industry, but I am now very confident that I was able to create this site using Laravel textbook.
I am anxious about taking on the challenge of becoming an engineer at the age of 37, but the confidence I have gained this time is going to be my driving force.
(Mr.AK、Male in his 30s)
After that, he was able to pass the technical exam to solve the assigned tasks, despite his handicap of less than one year of programming learning.
Here are some additional messages we received from him as well.
I started my job search and within 4 weeks I passed the technical exam!
While many of the other candidates had been learning programming for two to three years, I was able to pass the exam with less than one year of learning.
I feel that this was due in large part to the fact that I was able to learn efficiently with the Laravel textbook.
We believe that he was appreciated not only for his skills but also for his sincere personality.
We sincerely wish him continued success in his endeavors.